Hi blog readers! I am beyond excited to share with you all some photos from an inspired wedding shoot that took place last month!
I got engaged to the love of my life (Kevin) last August, and although we decided to elope, we wanted to celebrate our love with family and friends somehow. The thought of an inspired shoot with me as the bride, Kevin as the groom, our friends posing as bridesmaids and groomsmen, as well as family posing as guests came to mind. Once the idea was planted in my mind, I couldn't contain my excitement at the challenge of pulling off such a huge event! However, I'm not one to shy away from a challenge, so I started planning last October. Once the color palette was decided upon and a mood board was created, I reached out to some wedding vendors to see if they would like to collaborate on the project. Imagine my excitement when some amazing and talented vendors were on board with my vision. I am so thankful that they contributed their time, talent, and products.
We asked our family and friends to come dressed in colors to fit our mood board and they did not disappoint!
We couldn't have pulled it off without help from the talented vendors, our best friends, and our family...everything turned out so much better than I envisioned. As you can see by the sampling of photos featured here, the day was full of vibrant colors, amazing details, and beautiful people! Enjoy! (Full list of participating vendors along with contact info are listed at the bottom of the page.)
My hair and makeup were done by Daisy of 'Beautified by Daisy'. She asked if I liked having big hair and dramatic makeup - I said yes, and she worked her magic! She definitely knows which look works well for her clients, so if you're ever in the market for a HMUA, please don't hesitate to contact her. To see more of her work, visit here.
Ahh...my beautiful friends! I have known these ladies for so many years and am so blessed to have them in my life. We have been through so much together, and there was no hesitation when I asked them to participate in the wedding shoot as my 'bridemaids'. They were fully onboard...don't they look absolutely gorgeous?! Their makeup was done by Landysh - you can find out more info about her here.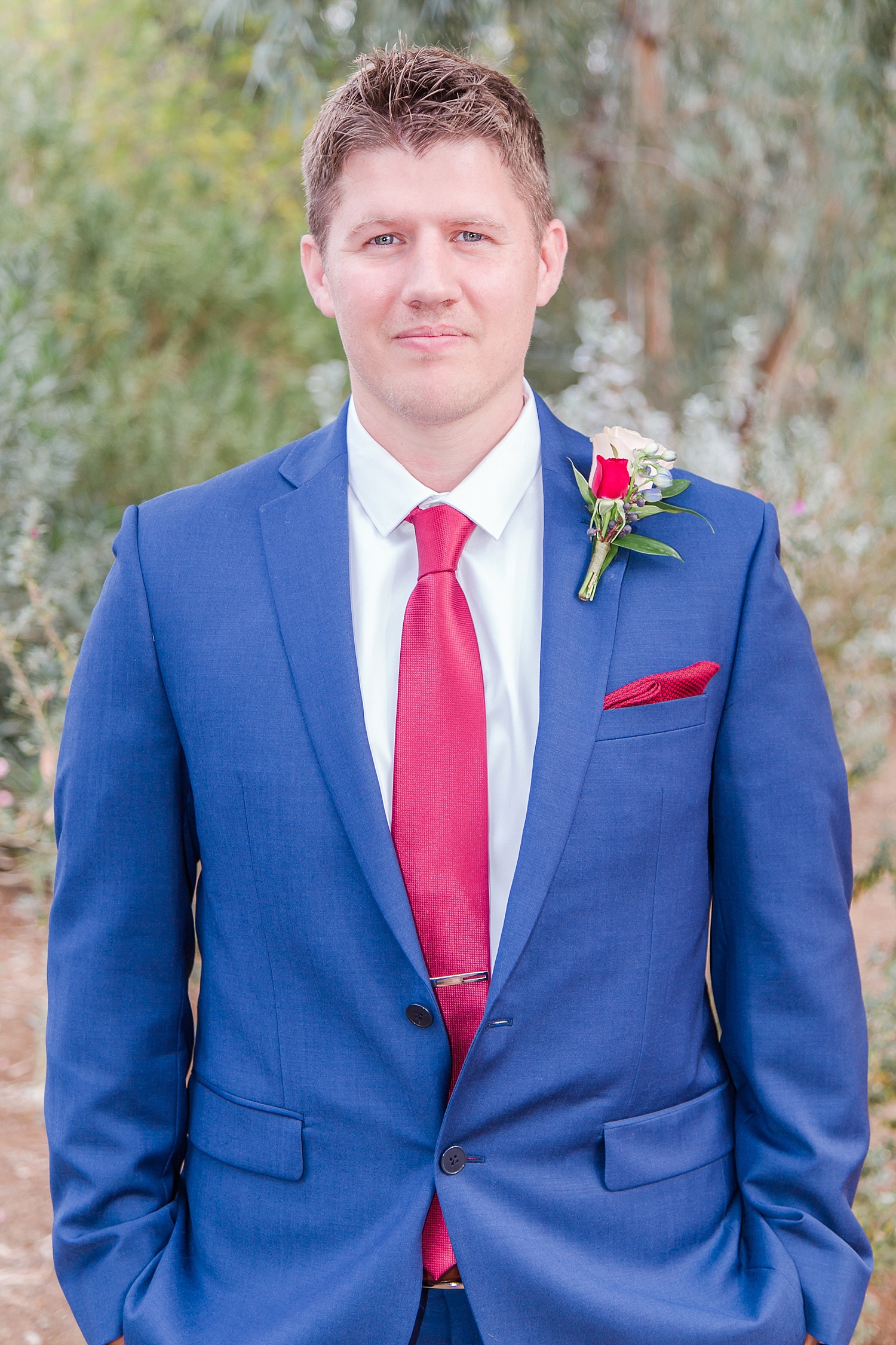 My now husband, Kevin! He's truly the best man I know!
Left: Beautiful wedding cake, French macarons and dessert table provided by Sonia of "Antigo Cakes'.
Right: Beautiful sweetheart farm table and upholstered chairs provided by Elegant Farmhouse Designs.
The beautiful 10' farm tables were provided by 'Elegant Farmhouse Designs'. The tables have a dark walnut stained top and white distressed table base. The classic style of table and the choice of finish went really well with the tablescape! To find out more about Elegant Farmhouse Designs and their inventory, please visit here.
The gorgeous florals were provided by Aubri of 'AZ Flower Fix' based out of Litchfield Park. Aubri used burgundy heart roses, pink Mondial roses, dahlias, delphiniums, asters, spray roses, privett berries, eucalyptus, Italian ruscus and agonis in all the arrangements.
She wanted to highlight the burgundy and navy of the wedding colors by incorporating the blush pink, medium pink and gold. The added colors give a depth to the overall scene that makes everything else pop.
I highly recommend AZ Flower Fix for all your wedding floral needs. To see more of her gorgeous work, please visit here.
This gorgeous and edible two tiered wedding cake was made by Sonia of 'Antigo Cakes'. The first tier consists of a rich chocolate cake with chocolate mousse filling, and the second tier consists of champagne cake with strawberry mousse filling. The cake was covered in Royal Blue buttercream frosting and finished with delicate gold leaf flakes and fresh flowers. I had a slice of the champagne w/ strawberry mousse filling and LOVED it...so delicious!
Sonia also provided the elegantly styled dessert table and delicious French macarons (my personal favorite). To see more of her beautiful work, please visit here.
BEHIND THE SCENES & MISCELLANEOUS PHOTOS
PARTICIPATING VENDORS
Styling & Planning:
www.instagram.com/jademinphotography
www.jademinphotography.com
www.facebook.com/jademinphotography
Photography:
www.instagram.com/jademinphotography
www.instagram.com/phx.photog
www.instagram.com/sweetlittlemoments_photography
Photo EDITING:
www.instagram.com/jademinphotography
Venue:
www.instagram.com/legacyweddingsandevents
www.legacyweddingsandevents.com
Florals:
www.instagram.com/azflowerfix
http://www.azflowerfix.com/
Tables:
www.instagram.com/elegant.farmhouse.designs
http://www.elegantfarmhousedesigns.biz/
Rentals:
www.instagram.com/materialgirlsweddings
www.instagram.com/jademinphotography
Wedding Cake, French Macarons, & Dessert Table
www.instagram.com/antigocakes
Mini Cupcakes, Mini Fruit Tarts, & Cake Pops:
www.instagram.com/dessertfirstbyveronica
www.dessertfirstbyveronica.com
Calligraphy & WEDDING STATIONERY:
www.instagram.com/sablewoodpaperco
http://sablewoodpaper.com/
Ring Box & Silk Ribbon:
www.instagram.com/thefamilyjoolz1
www.instagram.com/paperieandsilk
Hair & Makeup (Bride & MIL):
www.instagram.com/beautifiedbydaisy
http://beautifiedbydaisy.com/#1
Makeup (bridesmaids):
www.instagram.com/landysh_mua