Aloha friends! Today on the blog I am sharing my thoughts, tips, and of course photos and videos from our recent trip to the beautiful Hawaiian Islands.
We spent two weeks visiting the different islands as a way to celebrate our marriage and honeymoon. (I was also looking forward to the MANY photo ops…let's be honest!)
We decided to spend a week in the island of Oahu so that we can have time to relax and for Kevin to be introduced to some of my favorite spots (it was his first visit there). We spent the second week on Norwegian Cruise Line's 'Pride of America' ship exploring the islands of Maui, Kaua'i, and Hawai'i (aka the Big Island).
I am so happy my husband fell in love with all of Hawai'i, which means future trips to my favorite vacation destination! I mean, who doesn't fall in love with Hawai'i after they've visited and experienced its beauty and the Aloha spirit of its people?
Whether you've visited Hawai'i and experienced its beauty, or planning a future trip, this blog post will hopefully provide some helpful insight. There's quite a bit of info to share and for you to digest, especially during the cruise, so please refer to the Norwegian Cruiseline's Daily Newsletter to use as a guide for planning a future cruise! These newsletters will be listed at the bottom of the post for each cruise day.
Enjoy the photos and videos, and please let me know if you have any questions (or nice comments)! Aloha and Mahalo!
DAY 1 (Sunday, December 24th) - PHOENIX TO HONOLULU
We flew round-trip with Hawaiian Airlines and they only offer one direct flight each day from Sky Harbor International Airport (PHX) to Daniel K. Inouye International Airport (HNL) in Honolulu. Our flight was filled to capacity, so thank goodness Kevin and I sat at a row with only two seats…no need to deal with one of us having to be sandwiched in the middle. I really do recommend that you arrive for the check in process at least two hours before departure. Overall it was a relatively quick process to from check in to departure, and we left Phoenix on time at 7:35am. The flight to Honolulu lasts forever it seems (seven hours), so be prepared with downloaded Netflix shows and movies, a Kindle/book, and/or downloaded podcasts to occupy your time! You can also rent a tablet from the flight attendants for $17, which gives access to TV shows as well as recently released movies (they will come by for the tablet about 45 minutes before landing).
I packed a couple of the lipstick-sized portable chargers by Anker just in case our iPhones run out of charge during the flight. You can find the ones we use at the below listed link.
https://www.amazon.com/Anker-PowerCore-Lipstick-Sized-Generation-Batteries/dp/B005X1Y7I2/ref=sr_1_3?ie=UTF8&qid=1515560417&sr=8-3&keywords=portable+charger+iphone
Hawaiian Airlines offers beverage service as well as a complimentary brunch box meal (yogurt, granola, grapes & mini loaf) within the first hour after takeoff. During the last 1.5 hours of the flight we were again offered the beverage service as well as a shortbread cookie from the Honolulu Cookie Company (which I have a weakness for). They also offered a complimentary Hawaiian-themed alcoholic drink for adult passengers, which we politely declined.
DAY 1 (Sunday, December 24th) - OAHU, HAWAII
We landed in Honolulu around 11:30am and caught a shuttle to Enterprise to pick up our rental for the week. We ended up with a Jeep Wrangler and enjoyed being able to take the hardtop off for a couple of days to better enjoy the drive around the island (no off roading allowed…BOO!). We went to the Costco on Alakawa St. near the airport to purchase snorkel gear, breakfast and dinner items, a beach umbrella, beach towels, fresh leis, and other miscellaneous items. We loved the full face snorkel mask that we purchased from Costco - so much easier to wear and breathe from than the traditional mask and snorkel! You can find the ones we purchased at the link listed below.
https://www.costco.com/HEAD-Sport-Full-Face-Snorkeling-Mask-.product.100363046.html
We booked a studio apartment in Kaneohe via Airbnb for the week because we wanted to be away from the crowds.
The rental is about 14 miles from the Alakawa St. Costco, and is located right across the street from Kaneohe Bay, with three beach accesses down the street. It's a really cozy place with all the amenities, and has a private lanai (balcony).
We loved sipping coffee and/or mimosas as we soaked in the gorgeous views from the lanai. A tandem kayak is also available for use, but you'll have to haul it using your vehicle.
Our Airbnb contact was very friendly and accommodating of our needs, without being obtrusive. The Airbnb link to the property is listed below.
https://www.airbnb.com/rooms/20959627?location=NEW%21%20Kaneohe%20Studio%20w%20Bay%20Views%20&s=ks1Es4az
We spent the rest of the day unpacking and just relaxing. We made dinner, sipped some wine, and turned in early.
ABOVE - Views from our lanai (balcony).
Our rental for the week. It was so fun driving around in it - especially when there is gorgeous scenery almost everywhere we drove.
DAY 2 (Monday, December 25th)
We woke up extra early (4:30am) with the goal of being one of the first to get to the Lanikai Pillbox Hike (also known as the Kaiwa Ridge Trail). After a hearty homemade breakfast, we were out the door by 5:30am. Although it was a quick drive to the trail (5 miles from our rental), the entrance to the trail is on a private street, so we had to drive around for a bit to find parking. Note: GPS will direct you to a dead end, but just look for the Pillbox Trail sign to your left and you'll see the dirt road.
For me, the beginning of the hike was the hardest because it was still dark, it was uphill, and pretty steep. Not to worry though – it's a short climb and there are ropes on each side to pull yourself up with, as well as tree branches here and there to grab onto. We used our iPhone's flashlight feature to light our way, but I recommend an actual flashlight or headlamp. Oh, and wear shoes with good traction (I wore hiking shoes) because the trail was a little muddy and slippery (rained the day before).
View of the Na Mokulua islands or "mokes" from the trail.
It was still dark when we reached this spot during the hike, which was around 6:45am.
It took us about half an hour to get to the first bunker because we stopped a couple of times to snap photos. The sun was starting to rise and the views were SO beautiful! It's so peaceful up there…we felt one with nature. We spent about 20 minutes at the first pillbox and although the second one was just a short hike, we decided not to go because it was pretty crowded up there.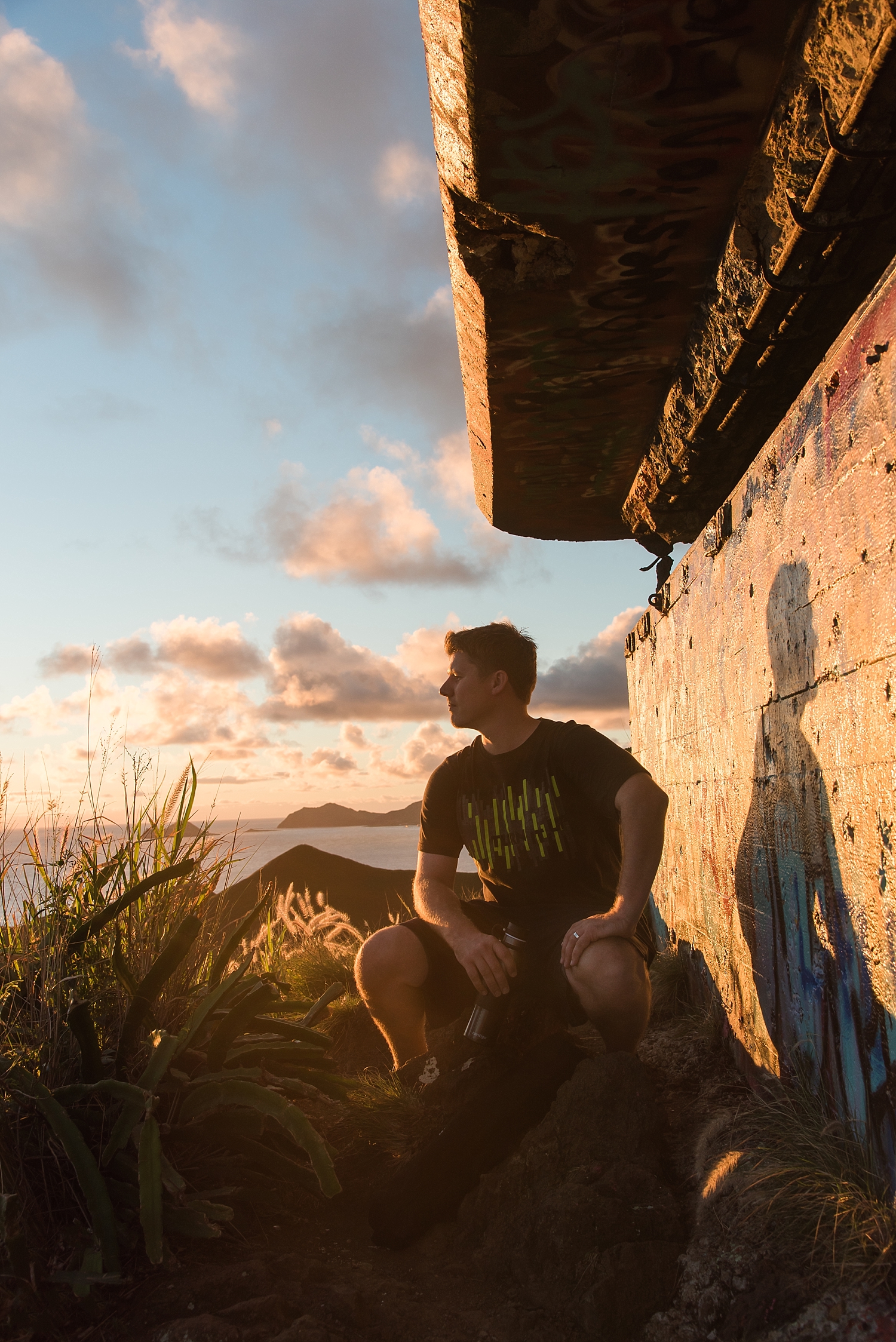 Kevin enjoying the view from the first pillbox just as the sun was starting to rise on this beautiful morning.
Fellow hikers enjoying the beautiful views from the first pillbox.
We took our time going down, and I didn't need support as I did going up. The trail wasn't crowded when we went up, but by the time we went down, we had to stop a few times to make way for the hikers going up. I would rate this as an intermediate hike because of the incline and decline, but go at your own pace and I promise, the views are OH SO WORTH IT!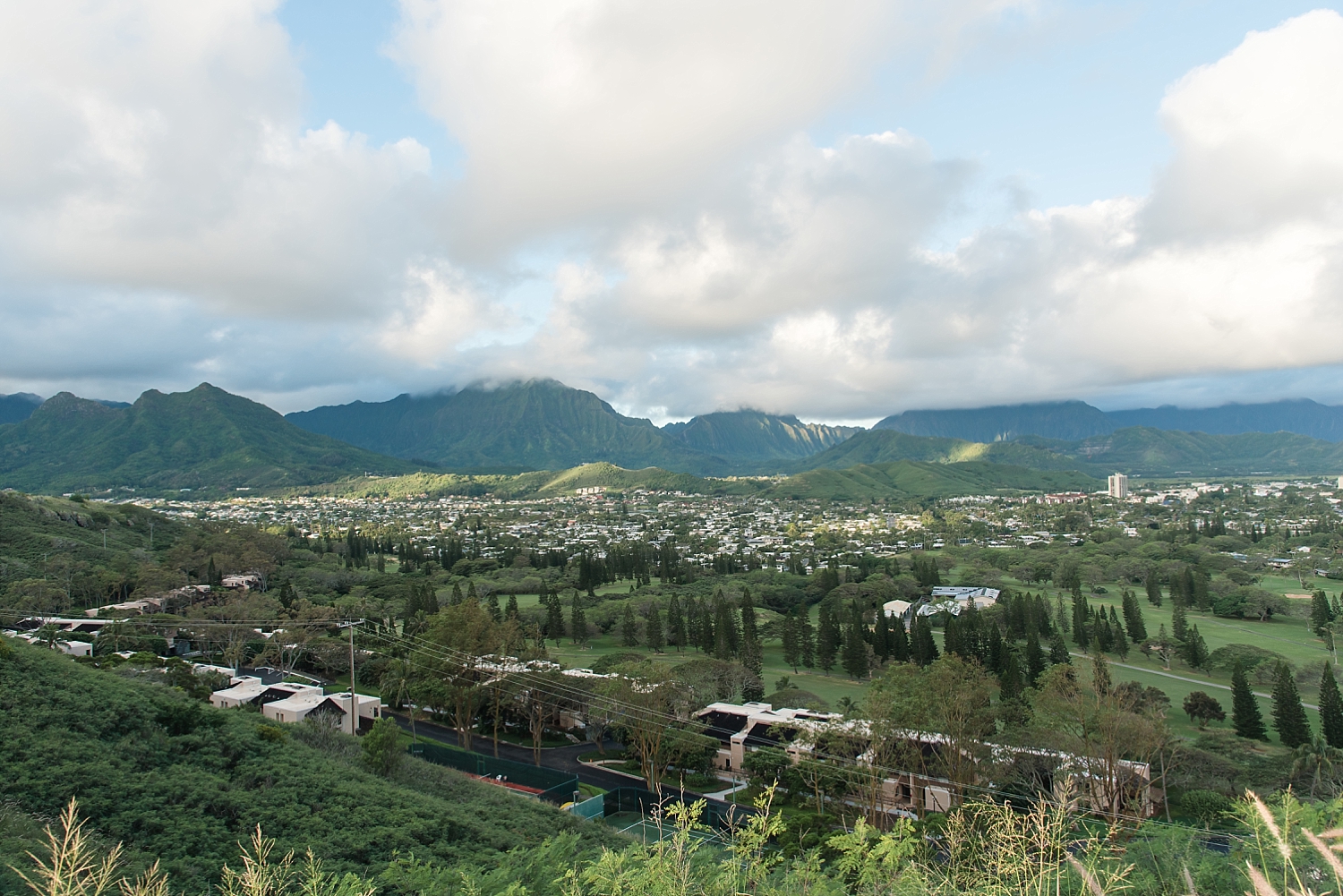 View of the cloud touched mountains on the other side.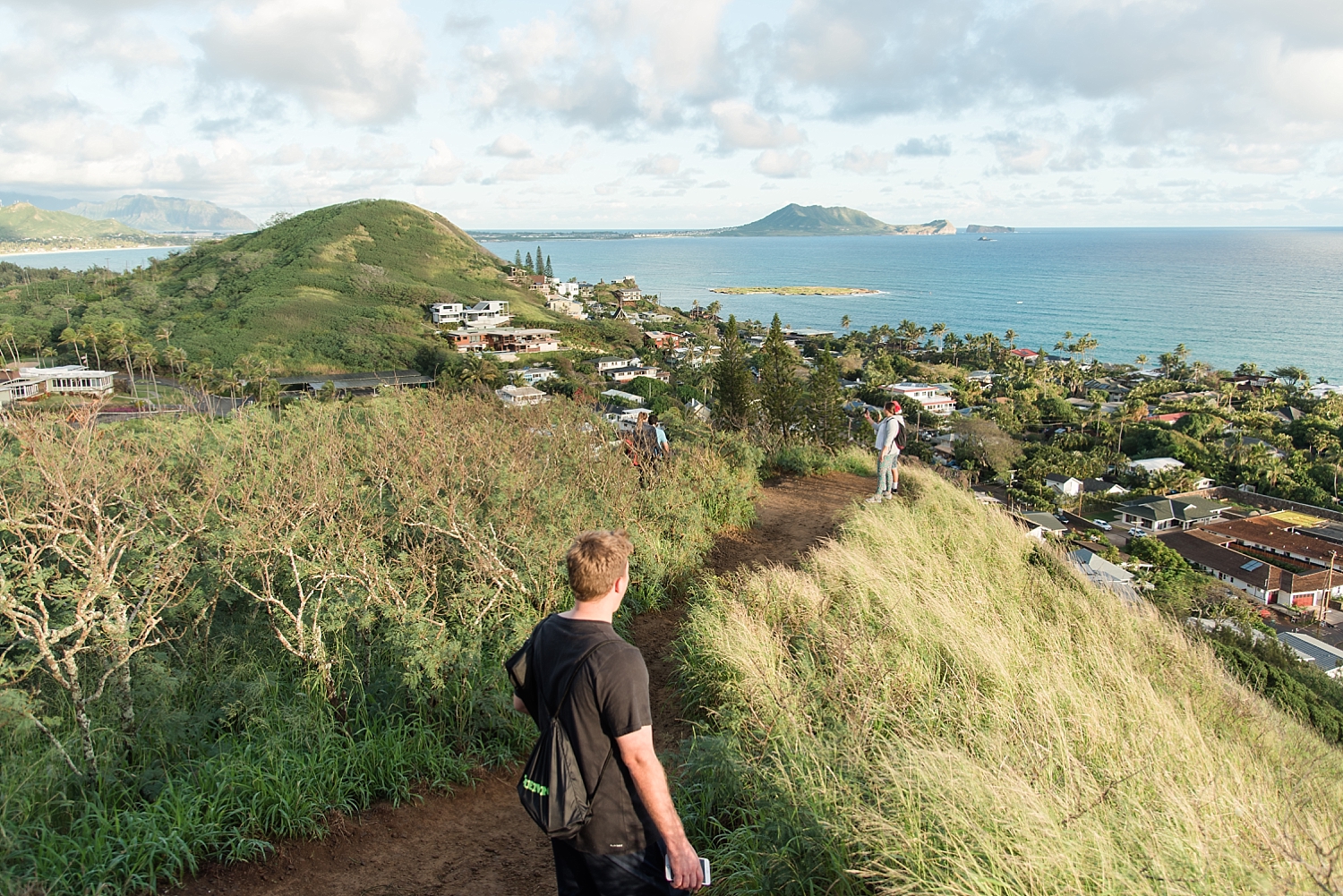 Going back down the trail around 8:00am.
After the hike we went back to the Airbnb to regroup and pack the necessities to hang out at Lanikai Beach (right by the Lanikai Pillbox Hike). We debated not going here on Christmas day because of the high likelihood of crowds, but we couldn't resist. I recommend visiting here on a non-holiday weekday if you want a less crowded beach and more parking availability, when the locals are at work. There is no public lot, so parking can be difficult to find since it's a residential area. Be sure to keep an eye out for all posted "No Parking" signs because you will be ticketed ($35). We saw many cars with parking tickets on the windshield.
I love Lanikai Beach because of the soft white sand, the clear turquoise water, soft breeze, and views of the mokes. There are no bathrooms or showers here, so plan accordingly. Kailua Beach, which is less than two miles away, offers public bathrooms and showers. Lanikai Beach is about 20 miles from the main resort area in Waikiki.
It was cloudy the day we went, but still so tranquil an beautiful. This beach is breathtaking on a sunny day...just like the ones you see on postcards!
After the beach it was back to the Airbnb to relax until our 7pm dinner reservation at Tommy Bahamas in Waik
Goodness, I had forgotten how crowded it was in Waikiki. I've visited Oahu during the Spring and Summer months and have never seen Waikiki as crowded as it was this evening. (I'm sure it had something do with the Christmas holiday.)
We walked around a bit and of course I had to stop by an ABC store to pick up a couple of beach wraps as well as some macadamia shortbread cookies to snack on later.
This Tommy Bahama location is located on Kalakaua Avenue, right in the heart of Waikiki. Their store is on the ground floor and you can take the staircase or elevator up to the restaurant on the second floor. We were seated within ten minutes since we had a reservation. I like the layout of the restaurant – it's very open, with nice ambient lighting. The servers here were attentive, knowledgeable, and professional!
We started off with a couple of cocktails - Pineapple Paradisio Martini for me and Blood Orange Margarita for him. It was made with Bacardi Pineapple, St-Germain Elderflower, Crème de Banana, Scratch Sour, and pineapple. Martinis are my jam, and this did not disappoint! I got excited when I saw elderflower…how exotic!
For the entrées we ordered the Thai Shrimp & Scallops and Maui Mokka Coffee Crusted Ribeye, both of which were cooked perfectly! The shrimp & scallops were served with a lemongrass coconut curry reduction and almond rice. The steak was cooked medium, was topped with garlic butter, and served with cauliflower mash and lemon arugula. We didn't have room for dessert at the restaurant but ordered a slice of the Pina Colada Cake to go.
After dinner it was back to our rental to "Netflix and chill".
DAY 3 (Tuesday, December 26th)
The forecast called for rain today, but we didn't expect it to rain steadily and heavily all day. I was used to brief, light showers in Hawaii, so the heavy rain was a bit of a surprise. The local news even reported that it was record-setting rainfall!
We didn't want to waste the day hanging at the rental, and so headed out to Waikiki to see what we could do.
Driving in Hawaii is quite different than driving in the mainland…no road rage for us here, even though the posted speed limit was 35mph or 45mph for most of our drives around the island. It's just too scenic!
We ended up at the Waikiki Aquarium to escape the rain and spent an enjoyable hour there. It's a small attraction, so I don't see needing to allot more than an hour there.
The aquarium is located near Waikiki Beach and there is plenty of metered parking on Kalakaua Avenue, which is where we parked. There are several parking spots in front of the aquarium, but as can be expected, they were all filled.
General admission to the aquarium is $12 per person. We were there for less than an hour because well…it's a small aquarium.
It was still raining heavily when we left the aquarium, and we didn't want to return to the Airbnb, so decided to go watch a movie. Thanks to my travel bestie, Yelp!, we found a nice theater, Consolidated Theaters Ward, which offers reserved seating and recliners! Watching 'Star Wars: The Last Jedi' in comfort was a great way to kill three hours of this rainy day.
We were ready to call it a day after the movie and headed back to the Airbnb for some rest and relaxation. It was so nice to fall asleep to the sound of the rain.
DAY 4 (WEDNESDAY, December 27th)
We started off our day by heading to Maona Falls Trail, just a few miles outside Waikiki. The $5 fee to park at the Paradise Park lot needs to be paid at the gift shop, but we couldn't prepay since we arrived before it was opened. (We paid after the hike.)
This is an easy hike that is less than a mile each way. At the end of the trail is the waterfall, which isn't very large but still beautiful nonetheless. It was wet and muddy along the trail since it had rained the day before, so I recommend wearing sturdy shoes. We forgot to put on bug spray, but wore long sleeved shirts and the hubby wore shorts…we didn't get bit. Guess the mosquitoes are full?! Along the way there are plenty of scenic views. We felt so far removed from the city because we only heard sounds indicative of the rainforest. Below are some photos and videos of the trail…gorgeous right?!
The original 'Jurassic Park' movie and scenes from the TV show 'Lost' have been filmed here.
After the hike we went back to the Airbnb to rest before our snorkeling trip at the North Shore.
I wanted to show Kevin my favorite snorkeling spot in Oahu, Shark's Cove, so that's where we spent a few hours in the afternoon. Shark's Cove is about 42 miles away from the Airbnb, and the drive took over an hour because there was heavy traffic and the speed limit is mainly 35mph. Don't worry – despite its name, there are no sharks there (other than the human variety). This is probably not the snorkeling spot you're used to – it doesn't have lots of coral or even a sandy beach. However, it's still a great way to spend a few hours because the water is clear, the landscape is rocky (bring water shoes!), and there is plenty of fish and other undersea life.
I love lounging on the rocky areas and absorbing the sounds of the waves crashing against the bay. There are no lifeguards here, so keep that in mind. I also took a few minutes to grab one of my wedding dresses to snap some photos near the water.
There are plenty of snack bars and restaurants along the main road and across from Shark's Cove is a small food court area, which is where we ended up for a late lunch. We ordered two garlic shrimp plates (~$14 each) from the North Shore Shrimp Truck and waited quite a while for the food to be ready. Luckily there are plenty of tables under tents for us to sit at because it started to rain. To be honest, the service here sucks…the lady that took the order is either naturally grumpy or was having a bad day. (I heard others complaining about her attitude too.) There are many shrimp trucks along Kamehameha Highway – I've tried a few and they were much better. This was just a convenient option for us.
DAY 5 (THURSDAY, December 28th)
We woke up around 4am to get ready for our sunrise wedding shoot at Waimanalo Bay Beach Park, which is about a 20min drive from our Airbnb. Since we already did a wedding shoot with two photographers a couple of weeks prior, Kevin wouldn't agree to let me hire a local one for our beach session. Alas, I had to make do with taking photos with my camera mounted on a tripod. It was a lot harder than I thought to set up the camera, have Kevin pose, set the timer, and run (in a heavy wedding dress) to stand next to him for a series of timed shots. I told him next time we're hiring a photographer, no matter what!
As you can see from the photos above, the session at the beach was exhausting! :P
We went back to the Airbnb for some rest and relaxation before heading out for a kayaking adventure.
Our Airbnb hostess was kind enough to let us use her 2-person tandem kayak and even helped us secure it on top of the jeep rental. We headed off to Kailua Beach around noon, which is less than five miles from our Airbnb and about a mile from Lanikai Beach. Kailua Beach has a parking lot (free) as well as street parking. Once parked, we found a nice spot to set up our beach umbrella, and headed back to lug the kayak to the launch off area. We stored our personal items in a waterproof bag and placed it in a compartment on the kayak.
There are two islands you can paddle to from the beach, both of which are part of the Hawaii State Seabird Sanctuary - Moku Nui (the larger of the two) and Moku Iki. Both islands are part of the Hawaii State Seabird Sanctuary. We paddled to the larger island and landed on the beach area. It took us over a half hour to get there from the beach because Kevin and I initially had a hart time paddling in tandem, hah! It was a windy day and I felt a little apprehensive at certain points because I don't know how to swim and the waves were strong! Thank goodness for the life jacket!
We spent some time exploring the trails on the island. I loved walking barefoot on the rocky ground because it felt like my feet were being massaged.
The paddle back to the beach was a lot easier and we were able to take our time and just enjoy the sound of the waves and feel the cool breeze. I definitely did not enjoy lugging the kayak back to the jeep when we left…that thing is crazy heavy!
We relaxed at the Airbnb the rest of the day, did a couple loads of laundry, made dinner, and chilled out on the patio.
DAY 6 (FRIDAY, DECEMBER 29th)
Today we visited Kualoa Ranch, the place I looked forward to the most during our trip! We booked their 2hr ATV Tour a couple of months beforehand and since we're early risers, chose the 8:30am time slot.
The ranch is about 12 miles from our Airbnb (less than a 30min drive without traffic). The ranch didn't open until 7:30am that day, so we spent a few minutes across the street at the Kualoa Regional Beach Park, taking in the views of Mokolii Island (also known as Chinaman's Hat).
We checked in at the Kualoa Ranch ticket office around 7:30am, but since the tour guides don't start their shift until 8:15am, we killed time eating breakfast at the café and shopped at the store connected to it.
Once we checked in at the ATV tour, we got to choose a helmet to wear (required)…mine also had a protective shield, which was very useful when it started to rain and mud was flying towards my face during parts of the ride. We also chose to wear the complimentary rain poncho because we knew it would be wet and muddy. After watching a safety video, our guide took us to the ATVs and once everyone was seated and belted in, we were off! They are strict with the ATV rules, which require guests to drive at the speed of the guide, in a single file line. Be forewarned that if the guide thinks any rules are broken, the tour will be halted immediately – so don't ruin it for others!
There were seven of us on this tour, including the guide, and I ended up behind the guide. It took me a little bit to get used to adjusting the speed of the ATV, but once I got the hang of it, I had a blast navigating the various trails he led us to. Personally I thought the rain and mud added to the experience…so fun! The speed racer in me was tempted to go faster, but I followed the rules and kept a good distance from the guide.
Our guide took us to trails deep into the valleys for beautiful views and to remote areas only accessible by ATV. I was in awe of the beauty that surrounded us as we navigated the trails…so green and magical! I loved visiting parts of the ranch where movies such as 'Jurassic Park' were filmed. Our guide just happened to know when a T-Rex was going to make an appearance and made sure we got a video to commemorate the encounter! My right shoe was falling off and Kevin was deliriously happy about being chased around by a T-Rex!
We got to spend 15-20 minutes exploring the famous WWII bunker, where certain scenes from 'Hawaii Five-0', one of my favorite serials, were filmed. The guide also pointed out an area built specifically for the recent 'Kong' movie…so neat!
The last leg of the ATV tour had us going in a zigzag on a muddy trail, which was bumpy but oh so fun! This ATV tour was the highlight of our Oahu trip and we would totally do it again! We gave our guide a generous cash gratuity because he was so friendly and knowledgable, but noticed the others did not tip. Please remember to tip the guides if they made your tour an enjoyable adventure. :)
We left the ranch around 11:30am and decided to find a place near our Airbnb to have lunch, muddy shoes and all! We drove around and Zia's Caffe on caught my eye…after our adventure, Italian food sounded very tempting!
To my delight, the restaurant offered gnocchi…score!!! I will always choose an Italian restaurant that offers gnocchi on the menu, no matter what!
I ordered the Gnocchi Primavera, which had zucchini, mushrooms, Italian sausage and red onion that was tossed in a sun-dried tomato pesto and topped with Pecorino cheese. Definitely one of the most delicious gnocchi dishes I've tried to date! Kevin ordered the Pepperoni & cheese pizza, which he said was good.
Kevin ordered the Pepperoni & cheese pizza, which he said was good.
After lunch we went back to the Airbnb to relax and pack since we were checking out early Saturday to head to our cruise.
DAY 7 (SATURDAY, DECEMBER 30TH)
We checked out of the Airbnb at 9am and dropped the Jeep off at the Enterprise location on Kapiolani Blvd in Honolulu, which we found out too late does not offer shuttle service to the cruise port. They did call us a cab though, which ended up costing us $16 (not including tip). Please note that cabs will charge a $.60 per suitcase fee.
I got butterflies as soon as I spotted the 'Pride of America' cruise ship, which is owned and operated by Norwegian Cruise Line (NCL).
We enlisted one of the porters to help with our luggage and he managed to get us to a shorter line for the security screening, which moved at a fairly fast pace. After that we were off to check in and get our photo taken for the room cards, which also served as our charge cards (for purchases made on the ship) and ID card for exiting and boarding the ship at the different ports. After check in we hightailed it to board the ship and skipped the area where professional photos were being offered. If you are photo happy, rest assured there are MANY opportunities to have professional photos taken during the cruise.
Pride of America Facts: Built in 2015; refurbished in 2016; holds up to 2,186 guests (double occupancy); holds 927 crew members; sails roundtrip from Honolulu year-round; and is the only U.S. flagged ocean cruise ship in the world that starts and ends in Honolulu (no passport needed)!
Due to Hawaii State law and because the ship only sails in American waters, there is no casino on board or bingo games for cash prizes offered. Also, forget about Tax & Duty Free items at the gift shops.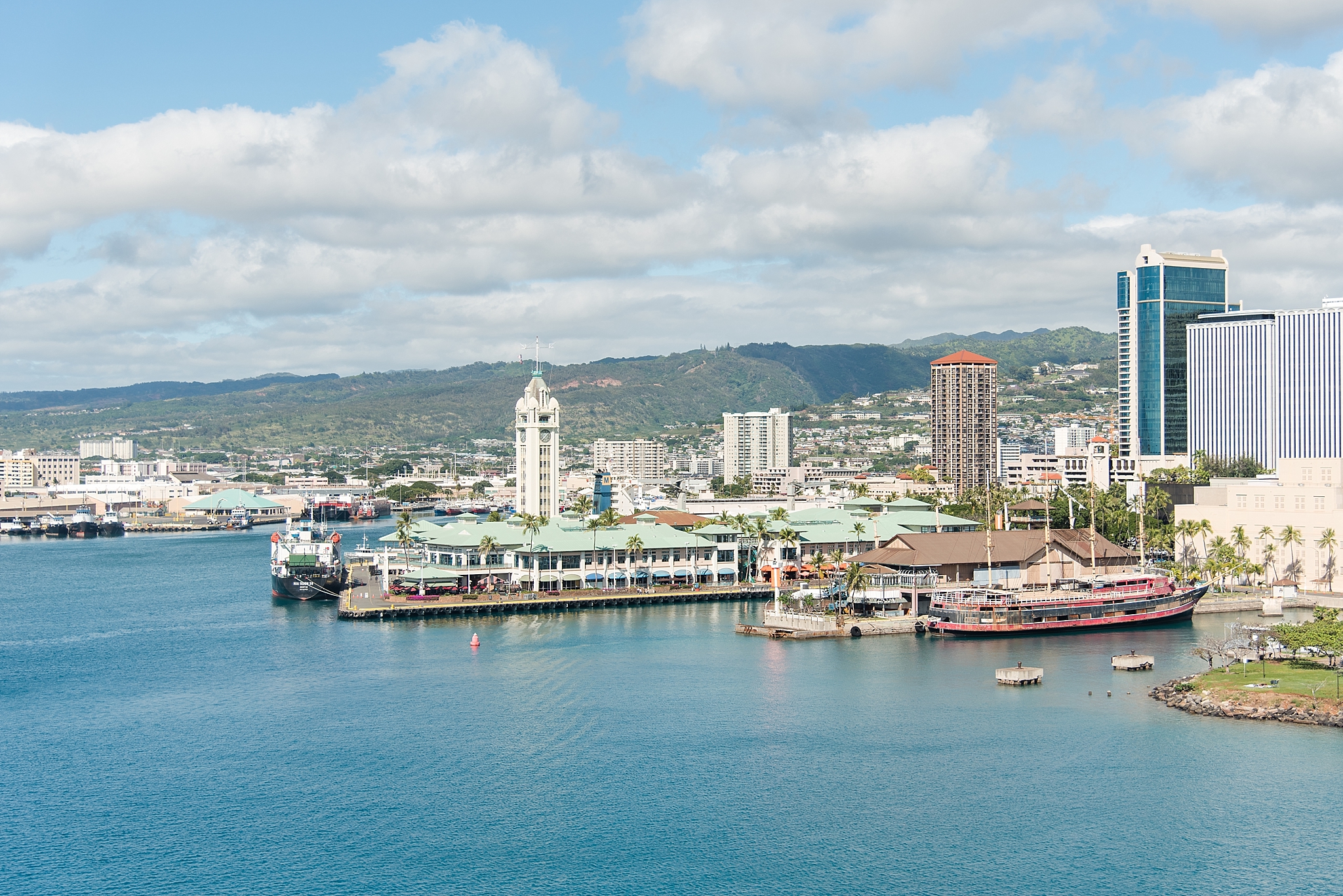 View of Honolulu Cruise Port from the ship.
I was a little concerned that the ship would look and feel a little dated since it was built in 2005 (even though it was refurbished in 2016). However, we found the ship to be clean, elegant, and beautiful! The ship's decor is Americana, which I loved, with the Colonial style staircase in the atrium being my favorite.
We boarded the ship by 12:30pm and had time to kill, so we grabbed lunch at the Aloha Cafe (complimentary buffet) on deck 11.
We grabbed a drink at the bar afterwards and watched the band and performers showcasing Polynesian music and dance routines.
We got the announcement around 2:45pm that our stateroom was ready, and it was a pleasant surprise to see our luggage waiting outside our door. (I've been on other cruises where the luggage doesn't arrive until close to 6pm.)
We booked our cruise two months before departure, so our choice of rooms was limited. Since we only wanted a balcony room, we were initially assigned a "Guaranteed Balcony". This meant that we're only promised a stateroom somewhere, anywhere, on the ship in the same category we chose, with the possibility of an upgrade.
We got a couple of emails from the cruiseline offering us the chance to upgrade for a fee, but declined both times. The actual stateroom wasn't assigned to us until a few days prior to our departure, and we lucked out because ours ended up being an Aft-Facing Large Balcony Stateroom on Deck 7 (#7012)!
Stateroom Pros:
- Bigger than the regular balcony rooms
- Large, private balcony with great views
- Easy access via stairs to the Hollywood Theater on Deck 5
- Easy access via stairs to the shops and Photo Gallery on Deck 5
- Easy access via stairs to the Mardi Gras Cabaret Lounge & Nightclub on Deck 6
Stateroom Cons:
- The Skyline Restaurant (Deck 5) and Liberty Dining Room (Deck 6) are on the opposite end of the ship (LONG WALK)
- Specialty Dining restaurants such as Jefferson's Bistro (Deck 5) and Cagney's Steakhouse (Deck 6) are on the opposite end of the ship
- Aloha Café (Deck 11) is on the opposite end of the ship
We unpacked and relaxed in the stateroom before venturing out at 6pm for dinner. Norwegian Cruise Line offers freestyle dining, which means you can go to dinner anytime the need strikes you – reservations not required except for the Specialty Dining restaurants.
The ship has two complimentary main dining rooms, the Liberty Dining Room and Skyline Restaurant. We chose the Liberty Dining Room because we wanted full waiter service. (The Liberty Dining Room and Skyline Restaurant offers the same menu items. The exception is that Skyline Restaurant is also open for breakfast.)
The Liberty Dining Room has a Colonial American theme, is open for dinner only, and offers traditional American food such as seafood, steaks and salads. The same classic entrees are offered each night (e.g., Grilled New York Strip Steak), and you'll get your choice of a salad, appetizer, main course and dessert. Each night the menu will also have featured entrees such as Thai Green Chicken Curry, Whole Roasted Prime Rib, and Papparadelle Pasta with Tender Duck.
Each table was assigned a head waiter and assistant waiter, and ours were attentive and professional.
Drinks: Kevin chose a glass of Robert Mondavi Merlot and I chose a Cosmopolitan. The drinks were about $12 each.
Appetizers: Kevin chose the Smoked Salmon Tartare and I chose the Asian Rice Noodle Salad.
Entrées: We went with the evening's featured items since they're offered only once during the cruise. Kevin chose the Pappardelle Paste with Tender Duck and I chose the Whole Roasted Prime Rib.
Desserts: Kevin chose the Flourless Chocolate Cake and I chose the Pistachio Crème Brulee (SO GOOD!).
Side Note: Since it's freestyle dining, you won't always get the same waiter team each day. Therefore, we made sure to tip our waiters in cash for their exemplary service. This is in addition to the automatic gratuity the cruiseline charges each passenger.
After dinner we walked around the ship and ended up at the patio area of the Skyline Restaurant to listen to live music by The Wave. We only spent 15 minutes there because it was SO windy and my hair was all over my face.
We made our way across the ship to the Hollywood Theater to catch the 'Welcome Aboard Variety Show' (8pm), which was hosted by the Jami, our personable Cruise Director. We got snippets of the week's performers, with our favorites being comedian Michael Somerville and the very talented vocal group.
We finished off our night by catching the 'Broadway Cabaret' at the Mardi Gras Lounge (9pm). The singers are part of the crew and are so amazing live! They sang hit songs and I felt like I was watching a true Broadway show.
CLICK HERE TO VIEW THE FREESTYLE DAILY.
DAY 8 (Sunday, December 31st) – Kahului, Maui
We're early risers and awoke just as the ship was nearing the shores of Maui.
As you can tell by my not so lovely voice in the videos, I was not fully awake (did not have coffee yet).
The ship arrived and was docked at the Maui port by 8am and won't depart until around 6pm Monday, so we had the whole day to explore.
We got ready for the day, packed our beach gear, grabbed breakfast at the Aloha Café, and were off the ship by 8am.
Our plan was to rent a car from the Enterprise location at the Maui Mall across the street from the port and spend the day visiting spots on the 'Road to Hana' so that we could dedicate tomorrow to catch the sunrise atop Mount Haleakala, and drive along Maui's northwest coast to eventually end up at Lahaina. Alas, due to no foresight (aka me dropping the ball by not booking ahead), we quickly learned that Enterprise were sold out on rentals, and so were the other car rental agencies in the vicinity. They advised us to try the rental agencies at the airport, but we opted not to because Kevin and already spent over a week in Maui on a prior vacation and we packed a lot into that trip.
We caught an early showing of 'The Greatest Showman' at the Maui Mall's movie theater. It was a nice way to kill a couple of hours and the movie was great…soundtrack is SO good! The Maui Mall is small and has several stores, the movie theater, a Long's Drugstore, and a Whole Foods. They offer local performances on the weekends and we were lucky enough to catch one after the movie, at 11am.
I went inside Long's Drugstore and bought a pair of the most comfortable flip flops ($6!!!) as well as a fresh flower lei because…well, I just couldn't help myself. We returned to the ship to relax since tonight is the big New Year's Eve party and we wanted to stay up past our usual bedtime of 10pm in order to enjoy it!
We got to our room and was pleasantly surprised to see that our steward cleaned it and left us a towel bear…aww. It's the little details that gets me! After we dropped off our stuff, we headed to the Aloha Café to grab some lunch and then headed to the pool area to lounge and chillax.
TIP: Since the ship only sails in American waters, the shops are always open during the day.
Kevin wanted to nap for a few hours before our 8:30pm dinner reservation at Cagney's Steakhouse, but I didn't feel like sleeping so instead got beautified in my sparkly party dress and headed up to grab a seat in the Hollywood Theater for the 'Aloha Polynesia' show at 7pm. I can never resist an authentic Polynesian show, especially the live music and talented dancers shakin' their groove thang! (Cameras were allowed for this show only...hence the reason why I'm able to provide you with the below videos. The show lasted for about 45 minutes.)
Kevin met me at Pink's Champagne Bar on mid-Deck 6 for a pre-dinner cocktail and live music. Cagney's Steakhouse is located on the same deck as Pink's, so it was a quick walk to check in for dinner. Cagney's is an upscale restaurant that offers a la carte items ranging between $3-$5 for soups and salads, between $16-$25 for entrees (lobster being the highest priced item), and $2 for sides.
Since we booked our cruise through Costcotravel.com, we were given three Specialty Dining Packages to use at the ship's six specialty restaurants. The credits cover appetizers, entrées, desserts, and non-alcoholic drinks at each specialty restaurant – alcoholic beverages are out of pocket.
TIP: We made reservations with the specialty dining restaurants via the TV in our room. You can also visit or call Guest Services.
Drinks: Kevin chose a cocktail (forgot the name) and I chose a pomegranate martini. The drinks were about $12 each.
Appetizer: We weren't too hungry and wanted to save our appetite for the entrée, so decided to share the Oysters Rockefeller.
Entrées: Kevin chose the Surf and Turf (filet mignon and grilled shrimp) with Grilled Asparagus and I chose the Grilled Ribeye with Béarnaise sauce and a side of Roasted Brussel Sprouts.
We spent about an hour at dinner since we skipped dessert.
Note: Normally you are allowed more than one of any item on the menu with the Specialty Dining Package, but Cagney's only allows one entrée. You may request all the additional appetizers and desserts you can handle, but additional entrees are $10 each. CLICK HERE to read more about Norwegian's Specialty Dining Package.
We headed over to Deck 11 around 10:30pm for the poolside Rockin' New Year's Eve Party! It was so nice to see everyone dressed up for the occasion. The local live band, Jimmy Mac and the Kool Kats, were great and we enjoyed the rockin' music, crowd, and the festive atmosphere! My only regret is not getting more photos of me and Kevin…we managed to get one together the whole night, and it was after we got a little buzzed! It felt so wonderful to ring in the new year with a kiss as husband and wife!
Once we rang in the New Year, we headed back to the stateroom for some shuteye…was definitely past our bedtime!
CLICK HERE TO VIEW THE FREESTYLE DAILY.
DAY 9 (Monday, January 1st) – Kahului, Maui
The ship was going to depart Maui at 6pm today, so we planned to spend half our day driving the road to Hana, because stopping at my favorite black sand beach is a must! We were off the ship by 7am and hailed one of the taxi cabs parked at the port to take us to the Enterprise located near the airport ($12 fare).
The road to Hana begins at the quaint little surfer town of Paia, which is about seven miles from the airport. It's a good idea to fill up your gas tank because there won't be a fueling station for another 40+ miles. (Tip: Paia is a good place to stock up on snacks, drinks, and picnic lunches. Also, you won't go wrong dining at Mama's Fish House, THE BEST restaurant in Maui!)
The road to Hana is a dangerous route with hundreds of curves, many bridges, blind turns, and wet conditions. Most of the bridges are all one lane and almost all will have yield signs on both sides, so take the appropriate turn. Please take your time and make sure the driver is focusing on the road. The road is long and offers many chances to pull over to absorb the beautiful scenery, take a break, or switch drivers.
There are plenty of stops along the 50mile+ road to Hana, but we only visited a few this time since we already spent a day driving this route during our last trip.
The first stop we made was at Mile Marker #10 because we needed to grab breakfast and I needed to step out for some fresh air. This is where you will find the Garden of Eden, a botanical garden with a $15 entrance fee, and the Garden Café, a red taco truck located near the entrance. The tacos are pricey and tasted a bit bland, but the mango smoothie was so dang fresh and good, and really helped to settle my stomach! I loved the vibe here.
I chatted with a local while Kevin ate his food and caught up on whatever sporting event was being broadcasted at that time.
I dug out my Sea Band wrist bands to help with the motion sickness I usually experience when riding as a passenger on curved roads.
Folks, if you're like me and have motion sickness, I highly recommend Sea Band wrist bands – they work so well, even on the cruise ship. I used to take Dramamine until I discovered their wrist bands! You can purchase them at your local drugstore. I got mine from Wal-Mart.
Click here to check out the ones I purchased.
Waterfalls along the road to Hana drive.
Our next stop is at my favorite spot in Maui, Wai'anapanapa State Park (otherwise known as the famous Black Sand Beach), located at Mile Marker #32.
It's a long drive to get here, but man, I can spend all day at this beautiful place!
There are plenty of things to do, such as hiking trails that will take you to caves, lava tubes, sea arches, and blowholes! There are gorgeous views everywhere you turn.
My favorite part about this park is the beautiful Black Sand Beach. In my opinion, the waves are too strong for this to be an ideal swimming location, but I just love being barefoot and having the waves and gritty black sand massage my feet. I always feel at peace here and could just chill and nap for a few hours!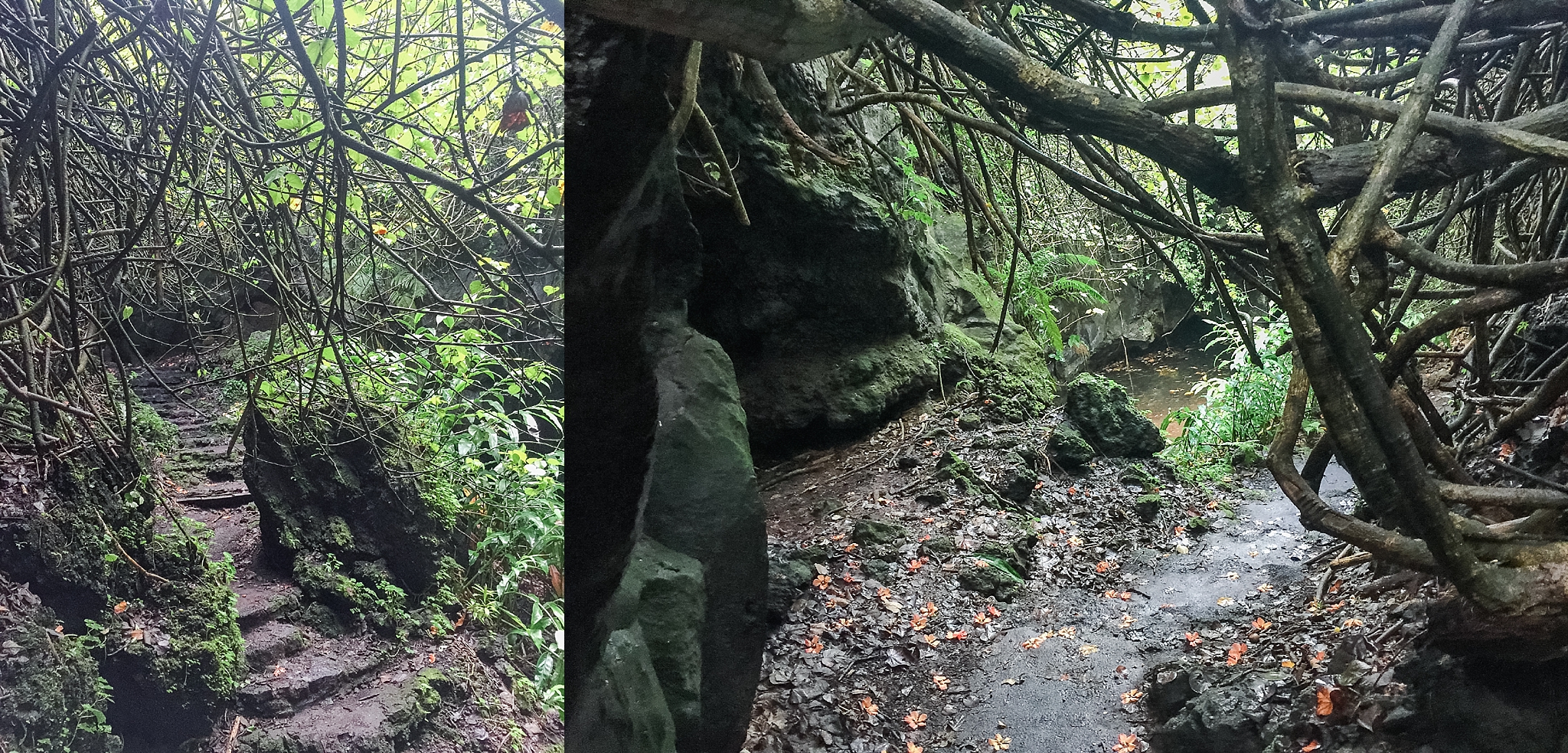 Me at my happy place, Pa'iloa Beach (aka Black Sand Beach)!
The Beach is small, but I've never felt it was crowded because no one really stays here for long; there's too much to do and see.
This was a short hike to get to the blowhole. You can continue onward for more sights because this is a 5+mile hike on a paved trail.
We only spent a couple of hours here because my husband was worried about getting back to the ship on time since the drive will be slow and we had to allow enough time to return the rental car.
The drive back was longer than the drive in because more cars were on the road, and of course we had to be extra careful at the one lane crossings.
More waterfalls?
Why, yes please!
The road to Hana is a long and sometimes exhausting journey, especially for those with motion sickness. However, nothing really beats this jungle drive with views of the Pacific Ocean and waterfalls, as well as trails that will lead you to other beautiful views and wonders.
If you have time, I highly recommend a visit to Maui Wine and the 'lao Valley State Park.
The three photos on the left is of Maui Wine. They will ship your bottles to the mainland. Here's a secret - you can also get their wines from Cost Plus World Market!
The two photos on the right are of
'Iao Valley State Park, where you'll find easy to intermediate hiking trails.
We dropped off the rental car around 3pm and caught an Uber back to the ship ($7.26 trip + $5 tip). Ride sharing service cars are not allowed to park/linger near the port, but the driver dropped us off as close as possible (the side of the road closest to the entrance of the walkway to the ship).
We came back to our room to find that our room steward left an adorable towel elephant on our bed!
Tonight the ship hosted the 'Norwegian's Night Out: Photos with the Captain' event, so here's your chance to get dressed up and get professional photos taken. Other events offered tonight was the 'Lights, Camera, Music' show, the 'Ultimate Lip Sync Battle', and the 'Not-So-Newlywed Game Show'.
However, since Kevin and I were pretty tuckered out from the day trip, we only ventured out of our stateroom for an early dinner at the Liberty Dining Room (6pm).
Kevin was not feeling well, so we only got a chance to order appetizers (and me a glass of Chardonnay) before we left so he could get some rest. We went to bed early because tomorrow the ship will arrive at the Big Island (aka Island of Hawaiʻi), one of my most anticipated destinations!
CLICK HERE TO VIEW THE FREESTYLE DAILY.
DAY 10 (TUESDAY, January 2ND) - HILO, HAWAI'I
NOTE: Our trip to the Big Island took place four months before the Kilauea volcano eruption in May 2018. Having experienced the majestic beauty of the Big Island firsthand, we were deeply saddened to hear about it. Our thoughts and prayers go out to those affected by the spewing lava and hazardous gases, which have forced many to evacuate their homes. In addition, Norwegian had temporarily halted port calls in Hilo and Kona beginning on May 14th due to concerns about adverse conditions created by the ongoing eruptions. However, the latest news is that Norwegian will be resuming its port calls in Hilo and Kona beginning on June 12th.
We awoke around 5:30am and were out the door by 7am to grab breakfast from the Aloha Café.
Here's a video of the pool area on Deck 11.
It's all quiet here near the pool, but it's a madhouse in the Cafe.
The ship arrived in Hilo around 8am and was supposed to be docked here through 12:30pm tomorrow (Wednesday). More on why we ended up staying here an extra day later.
Nourishment for the full day ahead! Mmm...
There were complimentary shuttles to the various rental car agencies located at the airport, but we opted to take a taxi after waiting for close to 30 minutes for the Enterprise one to arrive.Kevin booked us a BMW convertible for the day, and it was a blast to ride in it, wind be damned!
Our first stop was to the Hawai'i Volcanoes National Park, which is about 32 miles from the Hilo International Airport. We arrived at the around 9am, and checked in at the Kīlauea Visitor Center located just beyond the park's entrance. We spoke to one of the rangers on duty and got a map and tons of useful info on the sites we should focus on, road conditions, as well as safety precautions.
Kevin bought a long sleeved souvenir shirt (it was cold!) and a couple of water bottles for us from the gift shop inside the center. You can fill your bottles with filtered rain water at the water station located just outside the center. We did and loved it…so refreshing!
There are two main roads you can drive to visit the various sites: Crater Rim Drive and Chain of Craters Road. All roads are paved and do not require four-wheel drive vehicles.
We started off with the Crater Rim Drive because it was a shorter drive and first stopped to check out the steam vents, located less than a mile from the visitor center. There's limited parking, but we secured a spot.
There are steam vents right at the parking area, where we spent about 15 minutes at before we continued on with a short walk to the Steaming Bluff, where we saw steam coming up from the fractures along the caldera's edge. It was quite warm because of the steam and it was amazing to see and be reminded of Mother Nature's power.
It was quite warm because of the steam and it was amazing to see and be reminded of Mother Nature's power.
Our next stop was at the Jagger Museum, which was less than two miles from the steam vents.
There's plenty of parking here and it was already full of visitors when we arrived.
We spent about an hour here inside touring the displays and outside enjoying breathtaking views of Kilauea Caldera at the overlook outside of the museum.
If you don't want to be outside or the weather is not ideal, you can still catch views of the caldera from inside the Museum, which has large windows.
We turned around to head back towards the visitor center to start the Chain of Craters Road drive. Our first stop on this drive was at the Thurston Lava Tube.
It's a hit or miss with parking, but we got lucky and snagged a spot. To get to the lava tube, we walked less than a mile through a tree fern forest.
The lava tube is dark and wet, so bring a real flashlight (our iPhone flashlight feature wasn't enough).
Lovely walk back to the car from the lava tube. Kevin is rocking his souvenir shirt!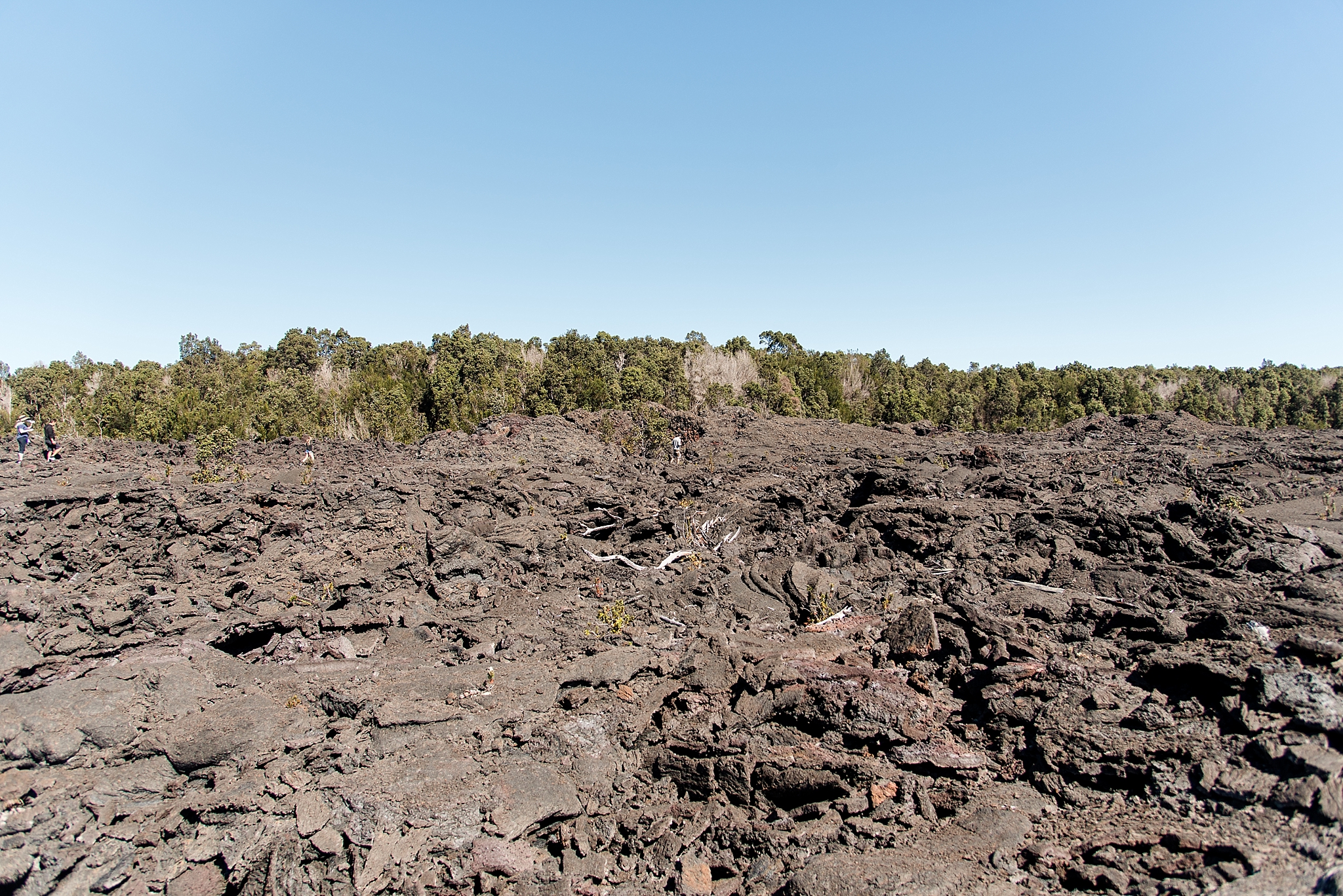 Can you spot the tiny people?
Lava continues to change the landscape, as we were reminded once again when the May 2018 eruptions happened.
It felt surreal to walk over the cooled lava from past eruptions.
The drive is about 19 miles one way. As you can see from the video, it was VERY windy...might have something to do with the convertible we were in, eh?
There are various geographic spots to stop at along the way, which are easily accessed by trails from the road.
At the end of the 18mile+ Chain of Craters Road drive is the Holei Sea Arch. There are no shops or gas stations along the road, except a refreshment kiosk and public toilets at the end of the road.
Once you park, it's a short walk to the ocean and the Holei Sea Arch. But first...a photo!
Sea arches are formed when lava is continuously pounded by the surf until it is undercut in the shape of an arch.
This is a view from the East, and was as close as we could get to the arch.
It's VERY windy here and chilly here, so bring a sweater/jacket and don't get too close to the edge - I felt like the winds were going to knock me over a few times.
We spent half an hour at the arch and then headed into town to find some food! We ended up in Pahoa, in a little strip 'mall' area – Kevin chose fish & chips from Pahoa Fresh Fish and I chose the BBQ mix plate from 'No. 1 Chinese Barbeque' a couple of doors down.
We chatted with the locals while we ate our lunch and afterwards went to drop off the rental at the airport.
While Kevin was busy with the return, I went to use the ladies' room and noticed two lei stands – Ah Lan's and Cho's! Hello! I immediately made a beeline for them and after perusing what each vendor offered, I chose to purchase from Ah Lan because she was just the sweetest person and really exhibited an Aloha vibe! She gave helpful descriptions of the different types of leis and the meaning behind each one.
I ended up buying three (2 @ $10 for me & 1 @ $15 for Kevin).
After dropping off the rental at the airport, we caught a shuttle back to the port, and was back on the ship by 3:30pm. Today our steward left us a towel pig…so cute! We rested a bit before getting ready and heading out for our dinner reservation at 7:30pm.
We chose to use our second of the three Specialty Dining credits at Le Bistro, an upscale French restaurant.
Le Bistro, located on Deck 5 (mid-ship), is elegantly decorated and evokes the Parisian feel. We were seated very quickly upon check-in and were placed in the library, which we loved because of the romantic ambiance…red tones and low lighting. The restaurant offers a la carte items ranging between $4-$7 for appetizers, between $13-$25 for entrees, and between $4-$5 for desserts.
Drinks: Kevin chose a glass of the Robert Mondavi Merlot ($11.50) and I got a glass of Champagne ($15).
Appetizers: Kevin chose the Asperges Grilees (grilled asparagus & shitake mushrooms with orange hollandaise), and I chose the Moules Poulette au Pernod (steamed mussels with Pernod, parsley, and cream). Both items were delicious!
Entrées: Kevin chose the Sole Grenobloise (Dover sole sautéed in lemon-caper butter with croutons), and I chose the Poelee de Saint-Jacques, Vinaigre de Xeres et Mousseline de Chou-Fleur (pan-seared jumbo bay scallops with sherry vinegar glaze and cauliflower mousseline). Wowza – both entrees blew us away!
Desserts: Kevin chose the Caramel, Vanilla and Lemon Profiteroles, and I (predictably) chose the Vanilla Crème Brulee. Again, both were delicious!
We called it a night after dinner and went back to the room to watch a movie and catch some z's.
CLICK HERE TO VIEW THE FREESTYLE DAILY.
DAY 11 (WEDNESDAY, JanuarY 3RD) - Hilo, Hawai'i
Today was supposed to be a port day in Kona (other side of the island), but due to some issues with the ship's water filtration system, we ended up staying on the Hilo side. Each person in the stateroom received a $100 credit for the inconvenience.
Since the ship was supposed to depart for Kaua'i at 1pm, we decided to stay onboard and have a lazy day.
We hung out near the pool area, enjoyed the poolside BBQ, and watched the beautiful landscape of the island as the ship sailed away.
We didn't have any set plans for dinner today, and so ended up at the East Meets West Restaurant on Deck 5 (mid-ship) around 6:30pm. However, they had no tables available, so we ended up at the Sushi bar, which worked out for us since items on the sushi menu can only be ordered if you're sitting there!
We ordered three rolls to share, and I also ordered the Hawaiian Poke for myself since Kevin doesn't eat raw fish. His favorite was the Surf and Turf (shrimp tempura, crab mix, beef tataki, chimichurri & garlic chips), while mine was the…surprise, surprise – Hawaiian Poke!
The Sushi bar is considered one of the Specialty Dining restaurants, so we ended up paying about $60, which is inclusive of a cocktail for each of us and the 20% gratuity.
After dinner we went to get some professional photos taken at the atrium staircase because well…it's about time we did! Kevin and I wore the leis I purchased from Ah Lan's at the airport the previous day.
There is no fee to have photos taken at the various backdrops, and you can dress however you please.
You can order prints at the Photo Gallery located on Deck 5 (forward), near the shops. On your freestyle card there is a Photo Binder number and a bookcase number, which are coordinates to your personal binder containing all photos taken during the cruise. You can pick and choose whatever you want and place the order at the register. (We ordered three 8x10 prints, which are $20 each.)
We headed over to the Hollywood Theater afterwards to catch the 8:30pm showing of 'Wonders: The Magical Experience', which lasted about 45 minutes. The magician, Charles Bach, incorporated dance and comedy into his magic acts and it was overall entertaining, albeit not particularly impressive.
We went back to the room after the show to relax before we headed out around 10:30pm to the 'White Hot Dance Party' at the Mardi Gras Lounge and Nightclub. This event was 21+ and we both dressed in white as per the theme. The music was a mix of top 40s, and I danced to a few songs with Kevin, but mainly danced at our table since he wasn't comfortable being in the spotlight! (During my last Caribbean cruise, my girlfriends and I tore up the dance floor with our moves!) This time the dance floor was mainly filled with staff members – guess this was one of the ways they can let go and have some fun. :)
CLICK HERE TO VIEW THE FREESTYLE DAILY.
DAY 12 (Thursday, January 4th) – Nawiliwili, Kaua'i
We woke up around 6am as we normally do.
I love waking up early and just having coffee and hanging out at our balcony, listening to the waves and seeing the ship get closer to shore.
I am most excited for today because Kaua'i is supposed to be very lush, beautiful, and full of amazing things to do!
After breakfast we got off the ship and caught a cab ($6 fare) to the Enterprise office located on the grounds of the Kaua'i Marriott Resort. The resort is huge, so beautiful, and less than five miles from the airport! There was even a huge koi fish pond!
Kevin was so impressed with this property that he even suggested we do a photo shoot here! I was like – say what?! We've decided that we'll be staying here when we visit Kaua'i next time! The Enterprise agent gave us a magazine detailing points of interests on the island as well as useful tips to make the most of our day.
We spent the next four hours driving the roads in Waimea Canyon, also known as the 'Grand Canyon of the Pacific', and Koke'e State Park. There are many amazing photo opportunities at each of the lookouts, and restrooms are available at a few of them.
Because we were limited on time and wanted to visit other sites in Kaua'i the same day, we only made four stops. To avoid crowds, we drove to the farthest point and worked our way back down.
Our first stop was at the Kalalau Lookout, which is located at around mile marker 18.
It's easily one of the most recognizable views in Kaua'i, and I'm sure many of you have seen it in movies such as the original 'King Kong' and 'Jurassic Park'.
Gorgeous views...and roosters everywhere!
Our second stop was at the Koke'e Lodge, located just past mile marker 15. The Koke'e Lodge has a small restaurant, bar, and retail shop and since we skipped breakfast, we were hungry. Kevin's Kailua Pork Sandwich, my Kailua Pork Plate, two bags of chips, and a specialty coffee came to about $34 (not inclusive of tip). Pricey lunch, but this was the only place for food in these parts, and honestly, that was the best Kailua pork I've tasted to date! I heard some patrons ask for chili because of a suggestion from their helicopter pilot, but the restaurant was already sold out for the day (it was barely 11am). We loved the rustic atmosphere, and the employees were so nice. We also loved that there were chickens and roosters running around everywhere – this is a common sight.
Our third stop was at the Pu'u Hinahina Lookout, located at mile marker 13. This lookout offers a cross-section view of Waimea Canyon, showing the river glistening in the distance.
We were lucky enough to spot some mountain goats this day! There are many hiking trails in the park, but alas, Kevin and I forgot to bring proper shoes today.
Our last stop was at the Waimea Canyon Lookout that is just past the 10mile marker, which is easily the biggest of all the lookouts.
Although not as big or as old as the one in Arizona, the canyon was still a sight to behold. There are three platforms offering panoramic views of the canyon, waterfall, and gorge.
We wanted to hang out at the beach after our outing at the canyon, and headed towards Poipu to Spouting Horn Park and Shipwreck Beach based on the Enterprise agent's recommendation. On the way we spotted the Kona Coffee Plantation and pulled in for a quick detour. I say quick because we were here less than 30 minutes and did everything, including the self-guided walking tour. Be sure to grab free samples of their different coffee flavors!
It's about an 11mile drive from the coffee plantation to the Spouting Horn.
There was ample parking and we spent about 20 minutes watching the geyser spout water when the tide came in.
Next we drove about three miles to Shipwreck Beach, which is located in front of the Grand Hyatt Hotel and was pretty crowded around 2:30pm. We lucked out with parking and managed to find a secluded area near the cliff where some brave souls jumped off from into the ocean. The current here is strong and not really ideal for swimming. It was fun to watch the cliff jumpers and surfers though, and the sounds of the waves gave me a sense of peace.
I can see why it's called Shipwreck Beach.
I took the opportunity to get some ring shots and almost got wiped out by a wave…worth it though!
It was hot out today, and we were starting to feel tired, so we hung out here for about a couple of hours before heading back.
Along the way we dropped by Uncle's Shave Ice for...you guessed it...shave ice! We shared their special - Noka'oi (The Best), which consisted of Melona & coconut syrups with fresh pineapple, macadamia nut ice cream, and a sweet cream cap. Kevin took a few bites and wasn't a fan because it tasted "too exotic." It was perfect to me though because I love exotic flavors...the shave ice was so refreshing after hanging out at the beach. (This Uncle's location is about three miles from the port.)
My sweet husband dropped me off at the port to board the ship while he returned the rental to the Marriott Kaua'i. Our steward left us a towel...I don't know what it is, but still cute! We relaxed in our room before getting ready for the 7:30pm comedy show at the Hollywood Theater. Plan to arrive at least 30 minutes prior to show time to get good seats. If you're excited at the thought of being picked on, be sure to snag a front row seat, because you WILL likely be picked on.
The comedian, Michael Somerville, was hilarious! Although his show is PG, his jokes and delivery was awesome. Kevin and I were laughing our butts off and would pay to see him at another live show. We wanted to see his 10:30pm show, which was supposed to be for audiences 21 and over…and risqué. However, we opted out of the later show when they told us the same material from this show was going to be used...with slight tweaks for adults.
After the comedy show we made our way to Deck 11 for our 8:30pm dinner reservation. We chose La Cucina, an upscale Italian restaurant, as our third of the three Specialty Dining restaurants. With the comped meal, we each got to choose two appetizers (antipasti/zuppa, pasta/risotto, or insulate), an entree and side item, and a dessert. The service here was impeccable and the food, amazing!
Drinks: Kevin chose a glass of the Robert Mondavi merlot while I chose the delicious and refreshing Bellini.
Appetizers: Kevin chose the Fritto di Calamari Con Salsa Marinara (antipasti) and Asparagus Risotto w/ Black Truffle (Risotto), while I chose the Mozzarella di Bufala Caprese (antipasti) and Gnocchi di Patate al Pesto (pasta). The Caprese was pretty bland, so I added a dash of salt and pepper as well as some balsamic vinaigrette for flavor. Also, I wish full basil leaves were used instead of sliced ones. The Gnocchi with pesto was SO creamy and delicious…pasta was fresh and the overall flavor was just right.
Entrées: Kevin chose the Pancetta Wrapped Rack of Lamb and Sautéed Green Asparagus & Shallots for the side, while I chose the Pan-Seared Mediterranean Sea Bass and Grilled Polenta & Creamy Mushroom Sauce for the side. The calamari was crisp and delicious, the risotto was creamy and amazing, and the lamb was cooked to perfection (medium). The sea bass was delicious…it was flaky and fresh.
Desserts: We both ordered Tiramisu, but asked for it to be boxed for later consumption.
We felt guilty about not being able to finish everything, but managed to get a few bites of each item.
After dinner we retired to our room to chillax before bedtime.
CLICK HERE TO VIEW THE FREESTYLE DAILY.
DAY 13 (FRIDAY, January 5th) – Nawiliwili, Kaua'i
I loved waking up this morning because of the view from our balcony...so peaceful.
We decided to spend the day relaxing on the ship since it was supposed to depart for the Na Pali Coast around 2pm and we didn't want to risk being left behind.
Kevin woke up at 6am in order to secure a cabana for us facing the pool (no reservations needed), the better for us to see the action taking place later in the day.
Kevin spent a few hours there reading, sipping beers, and taking in the sights while I slept in and spent the morning pretty much packing our luggage, leaving the necessities in one of the carryon suitcases.
I joined Kevin at the cabana later in the day and it was SO nice to just relax, feel the breeze, listen to the live band, and watch the activities hosted by the crew. The servers were pretty good about making rounds and taking drink orders - I ordered my usual Grey Goose and pineapple cocktail ($12.35 including automatic gratuity).
I mean, I can stare at this view all day! >:P
We grabbed lunch from the all All-American Poolside BBQ hosted by the ship around noon and brought the food back to our cabana. We just left our beach towels and belongings (minus the electronics) at the cabana when we had to step away. We used the cabana until around 3pm, after which we offered the space to an elderly couple. We went back to the room to take a quick nap and later freshen up before we headed back up to join everyone for the promised views of the Na Pali Coast.
We used the cabana until around 3pm, after which we offered the space to an elderly couple. We went back to the room to take a quick nap and later freshen up before we headed back up to join everyone for the promised views of the Na Pali Coast.
The ship cruising past the Na Pali Coast between 5-5:45pm was the highlight of this day for both of us. I have rarely seen a sight more magnificent and magical than the Na Pali Coast! We saw dolphins swimming near the ship and beams of sunlight filtering through the clouds. The narration by China, the Hawaiian Ambassador, as the ship sailed slowly past the Na Pali Coast added to the overall experience.
You may recognize the Na Pali Coast in Hollywood movies such as the original 'Jurassic Park' and 'King Kong'. It's very easy to imagine dinosaurs and large gorillas roaming this island!
Dinner
We opted to have an early dinner in order to catch two shows this evening, and booked a 5:45pm dinner reservation at East Meets West, a casual Asian Fusion restaurant that features "freshly prepared noodles, delicious wok fried dishes, authentic soups, and more."
Kevin skipped the appetizer while I chose the egg drop soup - so good! We both decided on the Spicy Seafood Udon Noodles for the entree, which consists of a seafood broth, seafood (shrimp, squid, crab, octopus), diced scallions, red bell pepper, and chili. Since it was our last night on the ship, I celebrated with a Domaine Miche Bellini; Kevin stuck with water and soda.
Since this is one of the complimentary restaurants, we only had to pay for our drinks and the automatic gratuity (~$14).
Shows
We caught the 7pm showing of 'Vegas! The Show' at the Hollywood Theater on Deck 5. The show lasted for about an hour and we really enjoyed it. The cast members did a great job singing and dancing to old Vegas tune, and the costumes were on point! My favorite was the Tina Turner impersonator – great voice! I was a little shocked that they allowed young children to attend the show because a few of the songs were very sexual and the costumes were very…revealing. One example is the dance routine to the Tom Jones song, 'What's New Pussycat'. You can imagine the provocative moves to the words of the song. Insert eyebrow wiggles here
We also caught the 10:15pm adult themed comedy show with Michael Somerville at the Mardi Gras Lounge on Deck 6. His content and delivery of the jokes made for a good show. Dare I say it? I preferred his PG-13 set to this adult themed one – the content was much funnier!
Preparing for Disembarkation
We spent time in our room to relax after the comedy show. The purple luggage tags were left on the slot outside our cabin door, along with the final newsletter.
We left our tagged luggage outside our cabin door around 11pm for overnight pickup by the crew. I kept one carryon suitcase containing my camera gear and the bare necessities. If you're able to carry your own luggage off the ship, you can walk off once it's docked and anchored, by 7:15am.
CLICK HERE TO VIEW THE FREESTYLE DAILY.
DAY 14 (Saturday, January 6th)- HONOLULU, HAWAII
We were up around 5:30am and saw that they left a final statement of onboard charges in the slot by our door – everything looked to be in order, including the credits we were promised because the ship couldn't dock in Kona. We exited our room with our carryon bags when the ship arrived at the Honolulu port around 7am. We sought out our cabin steward to thank him for his attentive service, and gave him a very generous cash tip. Although NCL charges each cruiser a daily $14.95 service fee that is supposed to cover tips for the cruise staff, we always made a point to give cash tips to the ones we received exemplary service from.
We went to grab a quick breakfast at the Aloha Café. Boy, this was the most crowded I've seen this café…it was crazy! I don't understand how people can take their sweet time (unless you're elderly, a child, or handicapped) knowing that the place is packed and efficiency is key. I had to bite my tongue a few times to avoid being 'asking' a couple of people too busy with their cellphone to keep the line moving. I would recommend having breakfast at the Skyline Restaurant to avoid the cafeteria line atmosphere – and to avoid your blood pressure rising because of oblivious people.
Once our baggage color was called, we were off the ship in less than ten minutes! Since the ship never left the U.S., we didn't need to go through customs. We grabbed a cab (again the $.60/per bag fee) to the Outrigger Waikiki Hotel and arrived there within 20 minutes.
FINAL THOUGHTS ABOUT THE CRUISE: The Pride of America's crew was almost exclusively American, which is great because there's no language barrier, but resulted in a different onboard atmosphere. Having gone on multiple cruises to Mexico and the Caribbean, I preferred the crew from our international cruises because they were more professional, cheerful, hardworking, and…kind. Don't get me wrong – we received good service from the Pride of America's crew…just not exemplary service like what we've been used to, especially from the waiters and bar staff. Our room steward hailed from Singapore and was so sweet and thoughtful during our time on the cruise. He greeted us by name when came upon us in the hallway, and would always ask if we needed anything. The service we received from him compared to what we received from his American counterparts was drastically different. I'm a proud American, but dang, great service is great service!
We left our luggage with bell hop and went to check in around 10am, thinking that we wouldn't be assigned a room until 3pm. Much to our surprise, a partial ocean view room on the 15th floor was just cleaned and ready for use! The nice check-in lady offered us the option to wait for a room with a king size bed, but we were fine with a queen size. We were each given a damp hand towel as well as a chilled glass of mango-pineapple juice…such a nice touch!
We were assigned room 1500, which is spacious and was situated in a quiet corner, with the elevator nearby (but not close enough for us to hear the noise).
All rooms beginning on the 15th floor have a designated (express) elevator - hooray! I've stayed here on a prior trip, but in a room on the 10th floor. I remember how long the wait was to use the regular elevators…not fun, especially around check-out time. I loved the tropical decorations and views from the lanai!
This is a beachfront hotel and always bustling with people, especially at Duke's restaurant…which I love! Other than Duke's, there's the Hula Grill, Chuck's Steak House, a deli, Seattle's Coffee, a convenience store, as well as several clothing and souvenir stores.
The best part about this hotel is its location – a few steps in the back is the beach and out front is plenty of dining and shopping options within walking distance, including the newly renovated International Marketplace.
I prefer the old International Marketplace, which was less glamorous, but felt more authentic to the island vibe - stalls selling Hawaiian knickknacks and vendors selling authentic (Asian) food items. Honestly, you don't even need a rental car if you're planning on just staying in Waikiki – everything is within walking distance or a quick Uber/taxi ride away.
After unpacking and a quick rest, we walked around Kalakaua Avenue to absorb the sights and sounds, as well as do some shopping. I stopped at five different ABC stores on this day alone! There is literally an ABC store at every block. The one right across from our hotel is pretty large and stocks better items. I mean, you can find just about anything from the ABC stores, as evidenced by the photos and videos below! Um, I apologize in advance if you get motion sickness from watching the videos. I was trying to be quick and stealth about shooting a video in the store, and well…yeah.
After walking around and shopping for a couple of hours, we decided to have an early dinner at Duke's in our hotel. The wait for the dining room was too long so we decided to sit at the barefoot bar…which was more lively! We both ordered a beer on tap and shared the Duke's Nachos, which was topped with all sorts of goodies, including sliced jalapenos and Kalua Pork…mmm.
Afterwards we went up to the room to chillax and later dressed up in our wedding finery to attempt another beach photo session. Alas, the beach was too crowded and the shoot didn't happen, so we just hung out for a bit before returning to our room to pack and make it an early night.
DAY 15 (Sunday, January 7th) - HONOLULU TO PHOENIX
Ugh, who else hates packing as much as we do? We were sad to be leaving Hawaii, but looked forward to seeing our pups again! We checked the rates for transportation to the airport, and it was $70 for a regular Uber– uh, say what??? The airport was only ten miles from our hotel – the explanation given was that it was a very in demand time. The Uber couldn't even pick us up in front of the hotel, so we would have had to lug our baggage (three large suitcases and two carryons) a block away to the mall's side entrance!
We called front desk to check out and for bell hop to assist with our bags. The bell hop ended up saving us some cash because he was able to hook us up with a flat $40 cash only rate if we used one of the taxis they have arrangements with. Thankfully we had plenty of cash on hand, so we ended up in a taxi van…tipped the bell hop accordingly for his helpfulness.
We arrived at the airport around 9:30am, two hours before our scheduled 11:30am departure. (Hawaiian Airlines only offers one direct flight each day from Honolulu to Phoenix.)
It was mad busy at the airport, and the process to check in our bags and get through the security checkpoint was craziest I've seen! There were so many people in line for the checkpoint that the line had to be queued outside. Luckily the officials ended up cutting out some required security checks (I won't say what) in order to speed up the line. For a moment there we were afraid that we would miss boarding the plane. It was a LONG walk from the checkpoint to our gate, so wear comfortable shoes. There are plenty of restaurants and shops at each terminal.
I pretty much killed time on the return flight by watching the most recent Dave Chappelle Netflix specials and a few episodes each of the 4th season of 'Black Mirror' and the 1st season of 'Deep Water', an Australian TV series. They are all worth watching, so check them out on Netflix!
Hawaiian Airlines offered beverage service as well as a complimentary hot meal (warm chicken teriyaki & caramelized onion sandwich/bag of Maui onion chips) within the first hour after takeoff. During the last 1.5 hours of the flight we were offered beverage service as well as salted peanuts.
We landed in Phoenix around 9:30PM (3hr difference from Hawaii) and caught an Uber to our home in Gilbert.
Well, that's all folks! I hope you've enjoyed my ramblings as well as the photos and videos! Until the next blog, take care and enjoy your day!
Cheers,

Jade